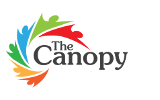 Maryland Neighbourhood Centre Programs and Activities
Home
/
Maryland Neighbourhood Centre Programs and Activities
Maryland Neighbourhood Centre Programs and Activities
Here are just some of the programs we are currently running:
Activities at a Glance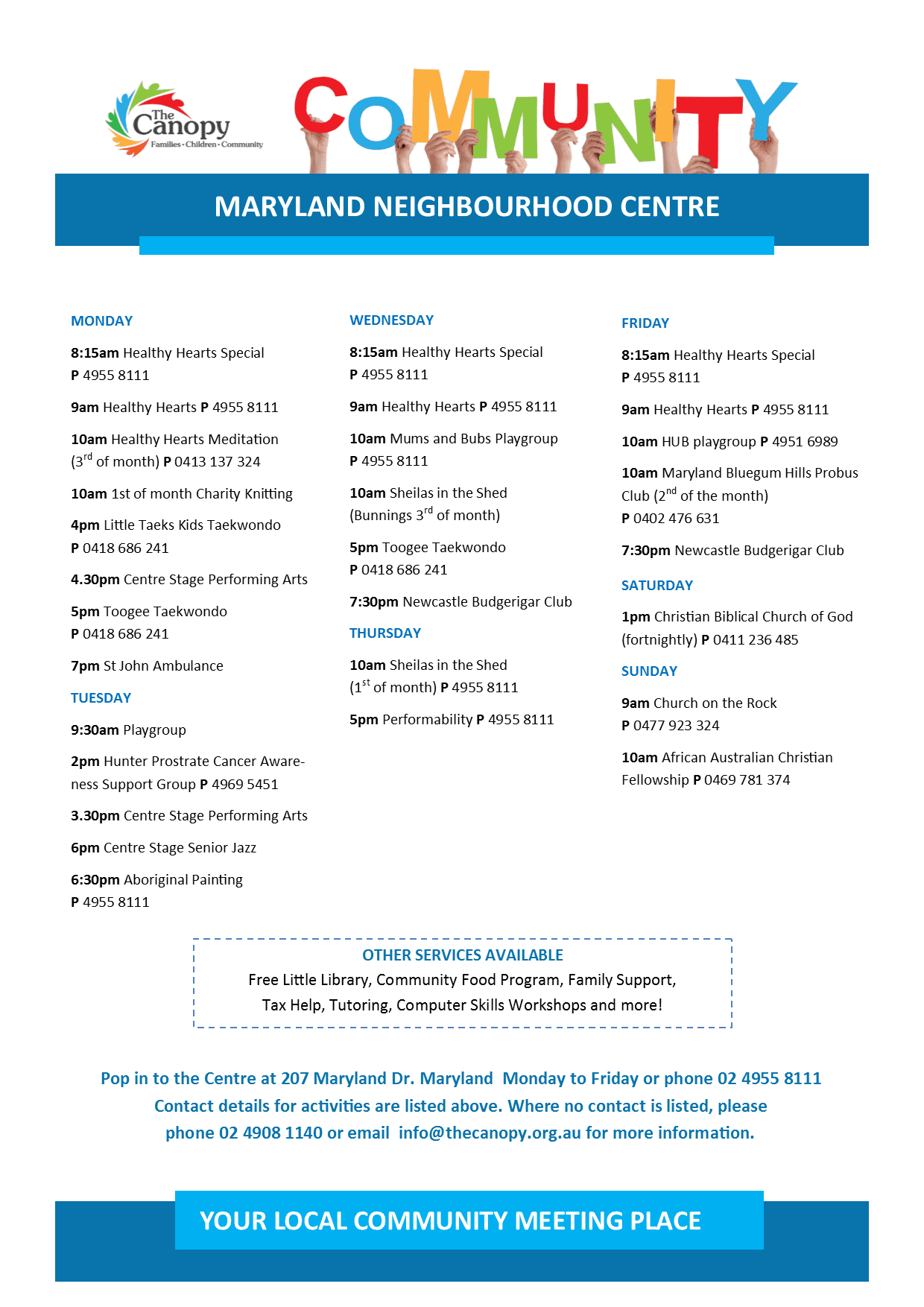 Child and Family Service
The Child and Family Worker located at the Maryland Neighbourhood Centre is funded by NSW Human Services – Family and Community Services. This service assists families with information referrals, family work and support to establish routines. The case worker also offers Triple P Parenting program, 123 Magic and Bringing Up Great Kids to assist families with child development 0 – 12 years. If you would like to make an appointment for this service please contact the Neighbourhood Centre on 4955 8111
Cultural Connexion
Cultural Connexion is a series of 6 two-hour workshops that will commence on the evening of the 23rd February 2017, for 10 teenage boys and 10 teenage girls and their parent, carer or significant adult in their life. Each male adult and child will be working together to make a didgeridoo and then learn to play it, whilst the women will be doing painting and weaving. The overall aim of the project is to help young people connect to Aboriginal culture, family, education and community. Respect will be given to men's and women's business with young people and their significant adult working together in culturally appropriate groups with two local Aboriginal artists to achieve considerable artistic outcomes. The project will culminate in a community day that will allow participating youth to display their learning and achievements through the project. If you are interested in participating with your child 12‐18, please ring Maryland Neighbourhood Centre on 4955 8111. You will need to register because of the limited numbers.
Food Distribution Program
Maryland Neighbourhood Centre run a food distribution program for those who need it in the Blue Gum Hills Community, with the generous support of OZHarvest and Coles Fletcher through the SecondBite program. Food can be picked up on Mondays, Wednesdays and Fridays. You will need to call in or ring the centre to collect a number anytime after 9:30am. Food can be collected at 1:30pm.
Phone: 02 4955 8111. There is no control over the quantity of food available.
Sheilas in the Shed
2nd February will be the start of our Women's Shed. The small but enthusiastic organising committee has named the Maryland group "Sheilas in the Shed" The first meeting will be morning tea to welcome and introduce everyone to the shed and what it hopes to achieve. There is also discussion about night Ɵme groups as the committee wants to give all women the opportunity to enjoy the friendship and acƟviƟes that will come from being involved. Suggestions for Sheilas in the Shed can be put into the pink suggestion box that will be in the foyer of the Neighbourhood Centre and a lookout for the Facebook page that will be up and running from January. This is destined to be a very caring, sharing and supportive group
WEEKLY ACTIVITIES
Healthy Hearts
Come along and see your health improve, blood pressure, sugar levels, balance, co‐ordination and cardio vascular health. Have fun and make new friends. Classes are Monday, Wednesday, Friday at 9am. Only $6.00 per class
Healthy Hearts for Men
Low impact and strengthening workouts exclusively for men Monday, Wednesday and Friday at 8:15am—8:45am. Only $6.00 per class.
Perform‐Ability
Dance and performance for young people with a disability every Thursday 5pm. Lots of opportunities throughout the year to perform publicly .
Playgroup – Tuesday
This playgroup is supported and has some fabulous activities. It starts at 9:30am every Tuesday of school term. Very inclusive playgroup if your child has special needs they are welcome.
Playgroup – Friday
A community playgroup coordinated by mums with everyone contributing. Meets on Fridays at 9:30am. An excellent opportunity for your littlies to mix and learn. $3 per session
St Johns Ambulance Cadets
Offers a great opportunity for young people to get involved in volunteering, learn first aid and build confidence and leadership skills. Monday 7pm
Walk and Talk
Come and meet some new people who enjoy walking and talking their way around Maryland. Meet at the front of the Neighbourhood Centre Tuesday Morning at 8:30am
MONTHLY ACTIVITIES
Charity Knitting Group
If you like to knit or crochet you are welcome to come along and help making knee rugs beanies etc. 1st Monday of every Month at 10am
Hunter Prostate Cancer Support and Awareness Group
Provides fellowship and shared experiences for people with prostate cancer. Partners and family members welcome. 2nd Tuesday of every month 2pm
Meditation
Meditation helps to clam the mind , learn some techniques to meditate anywhere . 3rd Monday of every month 10am
Newcastle Budgerigar Club
Welcomes visitors and members on the 4th Friday of every month at 7:30pm. For hobbyists interested in keeping, breeding and exhibiting.
Probus
An association for active retirees to enjoy the fellowship of others. 2nd Friday of each Month from 10am
CHURCH GROUPS WHICH MEET AT MARYLAND NEIGHBOURHOOD CENTRE
The Christian Biblical Church of God
Meets on the 1st and 3rd Saturdays of each month at 1pm. We have sermons and Bible studies focussed on: The meaning of life; What happens when we die? Is Jesus God or is the Father God? Who or What is the Holy Spirit? Does God care about our behaviour? All are welcome.
Church on The Rock Ministries International
Our church services are 10am to 12pm at the centre, Our motto: "Bound by unity and love – small enough to know you by name and big enough to love you" Join the family fellowship with pastors Munya 0431 922 688 and Leticia 0477 923 324.
African Australian Christian Fellowship
Meet every Sunday 10am to 1pm for prayer and worship. All welcome to come and join.
Other Services Available on Site
Psychology
Physiotherapy
Tax Help
Tutoring
Computer Skills Workshops
If you would like to commence a special interest group, please contact the centre on 4955 8111.
Our Services
Child and Family Services

Provides support and assistance to help you make the positive changes that you would like to make in your family. Support and parenting programs available at a range of locations.

+

Community Activities

The Canopy is a non-profit community organisation that manages local services and projects which aim to provide safe and welcoming environments for children, families and communities to grow.

+

Venue Hire

The Canopy manages a number of well-equipped venues with a variety of facilities for hire.

+

Chairs
Tables
Additional
Activity Room 1
(Main Hall)
100 Function Chairs
10 Mobile Folding Tables 2 Folding Trestle Tables
5 Children's Chairs (weekday only), 6 Children's Tables (weekday only), Two Seater Couch and Two Single Couch Seats (weekday only) Children's artwork will not be removed unless agreed in writing at least 2 weeks prior to event
AActivity Room 2
(Front Room)
40 Function Chairs
7 Mobile Folding Tables
Portable Whiteboard
Activity Room 3
(Soundproof Room)
1 Tub Chairs
2 Trestle Tables (behind cupboard)
Ten Children's Chairs, Two Seater Couch, Two Single Couch Seats, Portable Whiteboard and Two Coffee Tables
Activity Room 4
(Kids Room)
40 Function Chairs, 4 Tub Chairs
4 Mobile Folding Tables
Children's Play Table, 15 Children's Chairs, Cubby House
Commercial Kitchen
Commercial fridge, freezer, dishwasher, stove, oven.
Crockery, cutlery and other kitchen equipment is not a standard inclusion and will only be provided on request.