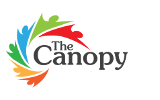 Cameron Park Community Centre Programs and Activities
Home
/
Cameron Park Community Centre Programs and Activities
Cameron Park Community Centre Programs and Activities
The Cameron Park Community Centre is the "hub" of the community with a large number of activities on offer.
Activities at a Glance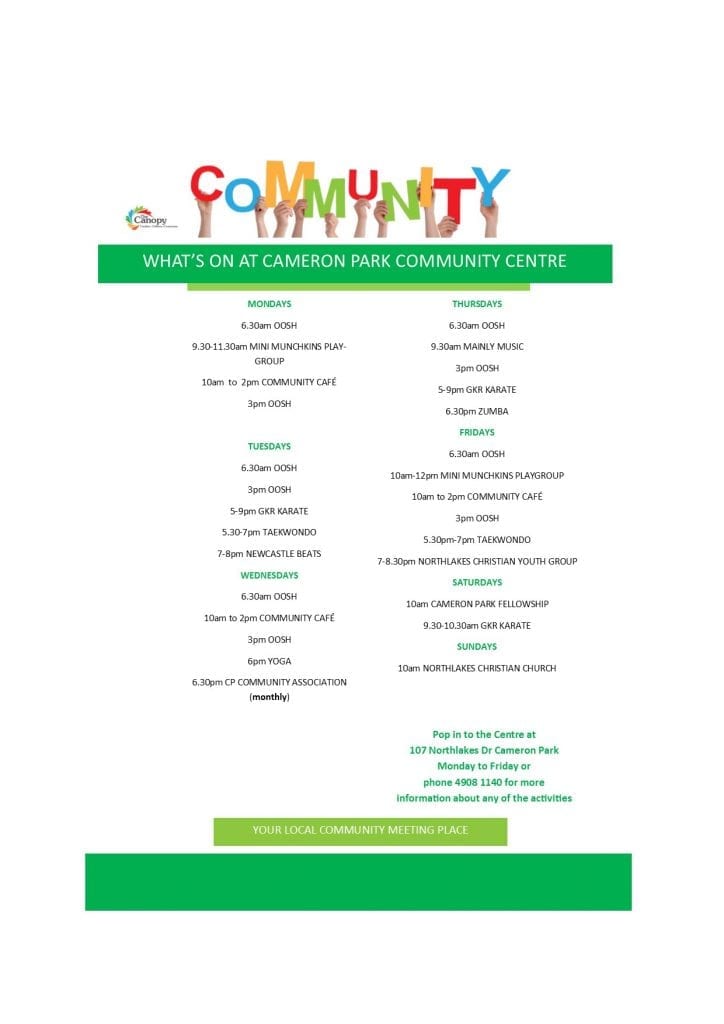 WEEKLY ACTIVITIES
GKR Karate: website | facebook
Karate is one of the most popular and respected Martial Arts in the world. GKR Karate promotes Karate for everyone, including children from 5 yrs old through to men, women and families of all ages. We value strength of character, humility, and bravery. Apart from the obvious development of self-defence skills, Karate training builds confidence, positive attitude, determination, focus, and of course fitness.
Tuesdays 5-9pm and Thursdays at 5-9pm and Saturdays 9.30-10.30am.
Contact Cherie on 0421 555 462 or email: cfenlon@gkrkarate.com
Mini Munchkins Playgroup
Playgroup runs at the Cameron Park Community Centre on Mondays 9:30–11:30am and Fridays 10am–12pm.
Just drop in to a playgroup to join.
Newcastle Beats
An Indian Drumming group
Tuesdays 7-8pm
Contact: Bijo Joseph 0424 136 692 or email beatsnewcastle@gmail.com
Northlakes Physical Culture Club "Physie": website | facebook
Physie is a mixture of dance such as jazz, ballet, hip hop, contemporary, aerobic dance and even yoga! The choreography changes annually and is designed for maximum variety and fun. Physie is great to build muscle, strength and co‐ordination, increases flexibility, balance and focus, encourage imagination and creativity and develop social skills and meet new friends. Mums, daughters and even nans can all do it together.
Enquiries: Kylie on 0412 704 940.
Outside School Hours Care (Active OOSH – Cameron Park): facebook
All primary school aged children welcome. At Cameron Park Community OOSH, we believe that by providing all children with a positive environment at all times, it will enhance and develop their skill levels. During the school term we offer a drop off and pick up service to Edgeworth, Edgeworth Heights, Barnsley, Minmi and St. Benedict's Public Schools on our business owned bus at no extra cost.
Enquiries phone 0409 286 959 or email: cameronparkoosh@gmail.com
Sloan Law – First consultation free
Half hour appointments to confer with a qualified lawyer on Tuesday mornings.
Phone 02 4908 1140 to book. Appointments essential.
Toogee Taekwondo: website
Traditional Taekwondo for all ages. Learn self-defense, develop self-confidence and improve fitness.
Weekly on Tuesdays and Fridays from 5:30 – 7pm.
For enquiries phone 0418 686 241 or email jamesmagill94@hotmail.com
Zumba Classes with Lenora: facebook
Thursdays at 6:30pm. First class is free, following classes are $12. All fitness levels welcome.
For information phone Lenora on 0400 918 256.
MONTHLY ACTIVITIES
Cameron Park Community Association
Monthly meeting at the Cameron Park Community Centre, commencing 6.30pm, first Wednesday of each month. All residents welcome.
Email: cameronparkca@gmail.com or Phone: 0421 000 033
CHURCH GROUPS WHICH MEET AT CAMERON PARK COMMUNITY CENTRE
Northlakes Christian Church: website | facebook
Meets at Cameron Park Community Centre every Sunday morning at 10am. Childcare and Kids Church available!
Contact Pastor Rob Branham on Rbranham@bigpond.com
Northlakes Christian Church Youth Group: website | facebook
Our Friday night Youth Group meets every Friday at Cameron Park Community Centre during school term from 7 – 8:30pm. Open to high school students years 7‐12.
Contact Pastor Rob Branham on Rbranham@bigpond.com
Cameron Park Fellowship
Meet on Saturdays at 10am-noon for adult Bible study and worship, 11am-noon youth bible study and 11am-12.30pm Children's music, craft and bible study.
Contact: Phil Cooper 0408 218 024 or email philcoop@gmail.com
or Lynette Moodley 0409 592 799 or email the.moodleys@bigpond.com
Also:
Child and Family Support Programs:
* Child and Family Services
* Parenting Programs
* Other Child and Family Services
* Partnership and Projects
Vacation Care (Active OOSH – Cameron Park): facebook
All primary school aged children welcome. Enquiries phone 0409 286 959 or email: cameronparkoosh@gmail.com
Volunteer Opportunities
and more …
For more information about each of the above programs, you can click the individual links above, download our latest newsletter , contact us on 4908 1140 or email us via our contact us page.
Our Services
Child and Family Services

Provides support and assistance to help you make the positive changes that you would like to make in your family. Support and parenting programs available at a range of locations.

+

Community Activities

The Canopy is a non-profit community organisation that manages local services and projects which aim to provide safe and welcoming environments for children, families and communities to grow.

+

Venue Hire

The Canopy manages a number of well-equipped venues with a variety of facilities for hire.

+

Chairs
Tables
Additional
Activity Room 1
(Main Hall)
100 Function Chairs
10 Mobile Folding Tables 2 Folding Trestle Tables
5 Children's Chairs (weekday only), 6 Children's Tables (weekday only), Two Seater Couch and Two Single Couch Seats (weekday only) Children's artwork will not be removed unless agreed in writing at least 2 weeks prior to event
AActivity Room 2
(Front Room)
40 Function Chairs
7 Mobile Folding Tables
Portable Whiteboard
Activity Room 3
(Soundproof Room)
1 Tub Chairs
2 Trestle Tables (behind cupboard)
Ten Children's Chairs, Two Seater Couch, Two Single Couch Seats, Portable Whiteboard and Two Coffee Tables
Activity Room 4
(Kids Room)
40 Function Chairs, 4 Tub Chairs
4 Mobile Folding Tables
Children's Play Table, 15 Children's Chairs, Cubby House
Commercial Kitchen
Commercial fridge, freezer, dishwasher, stove, oven.
Crockery, cutlery and other kitchen equipment is not a standard inclusion and will only be provided on request.